My biggest fear while traveling the Mediterranean is staying and keeping safe, particularly as a solo female traveler. How do I travel safely, keep myself, my items and my money safe, or at least have access to them, when traveling? How do you keep yourself safe while traveling? Here are a variety of traveler safety tips for keeping safe while on the road, and some safe travel gifts to get someone going traveling.
This post contains affiliate links. If you click on something and make a purchase we may make a small commission. Also, as an Amazon associate we earn from qualifying purchases. For more information, please see our Disclosure Statement about all our affiliations
Check out here, how you can sign up during Amazon Prime Days 2019 for extra special savings on these items below. And check this article for additional ideas on great travel gifts.
.
Safety Tip #1 – Always carry some extra cash
Even though I mainly travel to Mediterranean destinations within the Euro zone, I always travel with an amount of British Pounds or US Dollars. Sometimes my card won't work or a cash machine will eat my card. There's always the risk that the card reader has been tampered with and your info is duplicated. It can be a real pain in the ass.
I've learned the hard way, and having emergency cash is always a good idea.
You don't need to keep it all on you, and I wouldn't suggest it. Keep some cash back at the hotel locked up in the safe or your suitcase. Then keep a small amount in your pocket.
At least having some cash, even if it isn't the proper currency, will get your out of a bind. I have never had anyone refuse to take Pounds or Dollars if something happened to my Euro card. Particularly since they will be getting the entire £20 if that's what I have and my meal is only €15. You get my drift, but cash can save your ass…
If you don't want to keep the cash in your pocket, consider a secret money belt. I know lots of people who buy travel belts of all styles. I personally find they make me sweaty. There are ones that go around the neck and hang underneath your shirt and ones that go around your waste.
Safety Tips #2 – Keep your money and cards separate
Carry separate wallets that aren't wallets at all. That's too obvious. Put your cards in a card holder and put your cash in a different holder.
I use different pouches, just incase one gets stolen. I also keep cash and a card back at the hotel either locked up in my suitcase or in the safe.
Make sure you write down all your card numbers and bank contact details in a secure format. You can put them in the 'notes' area on our phone or computer that can be password-protected. You can also put them in an email to yourself.
Check out these slim wallets below that you can easily tuck in some cash and coins without having to drag along a huge wallet. They are great travel safety accessories and many come with RFID blockers.
Does your card have a limit?
Check with your bank and make sure cash cards have a daily and weekly withdrawal limit. But be sure it's one you can live and travel with. With a limit, only a certain amount would be fraudulently used, not your entire balance.
I know it's annoying for the screen to say I've reached my daily/weekly limit. The bank says it's for my protection, which in part is true, but at times I want to use cash because what I spend my money on is my business.
An RFID Wallet
 is seriously one of the best safe travel gifts you can buy for yourself or for friends who travel a lot. These will prevent scammers from simply scanning your credit card details. This is called Skimming.
These bastards are so quick, that they can steal your details while walking next to you or behind you. Or they could be standing in the line at the coffeeshop behind you. No joke. These crooks are serious, and it takes little effort on their part to really piss off your vacation.
Most of these wallets below hold quite a few cards, and since they are not that expensive, they are great safe travels gift ideas.
Safety Travels Tips #3 – Travel safely with cash
Whatever you do, avoid getting cash from a remotely-located cash machine. As I mentioned above about Skimming, there is yet another scam going around called Shimming.
These are devices that scammers stick INTO a cash card machine that will then read the info on the chip in your card. These stupid-ass chips are supposed to be a safety feature, but they now appear somewhat useless. 
Chances are the ATM machines just outside of banks are monitored by CCTV and should be safe for use.
Better yet, go inside a bank and use one of their ATM machines. Wherever possible, use the touch pay feature when in shops and restaurants, or set up other online wallet systems, like Google Pay and Apple Pay.
Great Travel Tips #4 – Keep local currency in your pocket
When I travel around for the day, I keep about $20 in my pocket, and some change for easy access. I don't like digging into my pack to get money for just a coffee or a bus ticket. Just keep some local currency in your pocket.
Safe Travel Tips #4 – Use a lightweight backpack
I have a great backpack, which is lightweight, spacious and heavy duty. I'm a big fan of backpacks because I keep my personal belongings on me all the time. I'm a big supporter of Kipling Backpacks
. I've used them for years and have entire suitcase sets from them.
The material is super lightweight, doesn't tear, you can throw it in the washing machine and holds a ton. Also, the zips on Kipling bags are tough to open. Even if you are trying! They are  great travel safety products.
My current bag has a space for a laptop or tablet depending on what I'm carrying. There are two pockets on the side for smaller water bottles and a drawstring interior to open wide and shove everything in. The double, metal clasp on the outside is expandable depending on what I have inside. There are two zip pockets in front, where I put maps, receipts, pen, paper – things that don't matter.
Tricks with Backpacks
Any rate, another nice thing about Foldable Backpacks
is that they are easy to roll up and put in your suitcase for use when you get to your destination.
Many airlines allow you to carry only one item – your suitcase! I often fill up my backpack and stuff it inside the suitcase with the handles sticking out. Once I pass check-in, I pull out my foldable pack and then zip up my suitcase to put in the overhead compartment.
For reference, recently I had a 2-liter bottle of water, my tablet, a swimsuit, a small towel and my DSLR camera! You can also shove in your passport, phone and other items.
My wallet is in the inside compartment, and I had some maps in the front. It's a fab pack and easy to carry around. It's harder to steal while worn and you have your hands free. I always drape the straps around my legs when I am sitting so my pack is always physically attached to me. I NEVER EVER hang my pack on the back of my seat. Never.
These tips for female backpackers, specifically will be handy for someone doing a proper vacation solely with a backpack.
Here are some great Kipling Wheeled suitcases
. Again, their suitcases are lightweight, comply with European travel standards and you can shove a lot in there!
I'm a big fan of their cases because they are so light to begin with and I've never had a bag tear or have the zipper break.
And also, some have whimsical designs so they are very easy to find coming off the baggage belt at the airport. Highly recommend these bags.
Safe Traveling Tips #6 – Don't travel with expensive jewelry
You should think twice about traveling with expensive jewelry. I travel with a functional watch, a couple of rings and earrings. Nothing more, and they stay on me all the time. I leave valuables at home and the same for fancy necklaces, which can be easily snatched off in a second.
If you absolutely must travel with valuable jewelry, you might want to buy a travel safe. These little travel safes are also fireproof and can be easily tucked in your handbag. Do not check your jewelry in your suitcase. Always carry it with you.
These small travel safes fit perfectly in your bag or backpack, and are a great safety travel gift for friends who travel a lot.
Tips for Safe Travel #7 – Don't accept drinks from strangers
This might seem like a no-brainer, but sometimes you need a reminder. I don't accept drinks from anyone – male or female. I buy my own and keep an eye on it.
A couple years ago, I was "ruffied" in London, and robbed by two seemingly nice women who were in cahoots with some local guys. They do this for a living, and even the restaurant was in on it!
I have worked with college students for more than a decade, so I should know better. It could have been much worse than just losing cash. Stupid all around.
There are several great safe travel products on the market where you can test your drink if you think it may have been spiked. Give these a try below.
Safety Tips for Travelers #8 – Be aware of your surroundings
Probably the best safety tip for travelers is to pay attention to your surroundings – day and night. I needed to remind myself this recently.
I took an excursion that got back to port around 10:15p, and while the walk to my apartment wasn't far, it was a bit in the dark.
Luckily, one of the tour guides that was on the boat was staying at the same place, so I walked back with him. Plus, I forgot to put the light on, on my terrace, and my room was in, 'no-man's land,' which leads to the next part.
Know how to work the flashlight on your phone, or get a travel flashlight. These safety flashlights fit into your pocket or on a key chain and are easy to recharge.
Top Travel Safety Tip #9 – Keep your 'Americanism' in check
As an American, I can say this. Americans talk too loud, particularly in groups, as if we are shouting over one another. And we tend to tell complete strangers our life stories in a form of bragging. Don't do this. This is not cool, and you are feeding the stigma of the, 'loud, brash American.'
While Americans think we live in the best place in the world, not everyone agrees, nor aspires to live there, nor wishes to know every detail of your life within 10 minutes of having met you.
Use respect, speak in normal tones and divulge information only when asked. Otherwise, you are feeding the stereotype and making yourself and others a target.
Travelers Safety Tip #10 – Review your travel insurance policy
Do you have travel insurance? If you have a private health insurance plan, does it cover travel? And what exactly does it cover? Are you covered if you need to see a doctor, need urgent hospital care, need to cancel a trip, or need emergency funds?
When I travel in Europe, I have a European Health Care Card, which covers me within Europe so long as I am there on holiday for less than 30 days. I also have an International Health Insurance Policy that will cover me for 90 days of travel per year – including the US.
Also, check with your credit card. I book travel with certain credit cards specifically because I know I am covered for things like theft and emergency medical attention. I always book travel with my AMEX as I find their coverage to be the best. Here are some great travel insurance tips for Canadians searching for the best travel insurance. And US citizens can check information on the World Nomad site.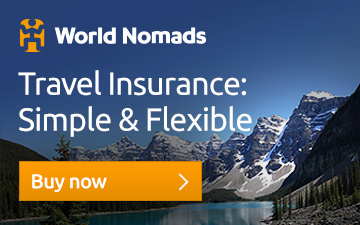 Travel Safety Tip #11 – Use the in-room safe deposit box
Oftentimes, you find a safe deposit box in your hotel room. Sometimes they only hold small items, like wallets and passports, and others are large enough for your laptop.
I'm a fan of the types where I put in my own 4-digit private code. I won't use the ones that want me to swipe my credit card. I don't like giving anyone/anything unnecessary access to my cards.
If all else fails or there isn't one, then lock your items in your suitcase. And always have a couple of small suitcase locks on hand as well.
Travel Safety Tip #12 – Hang the 'Do Not Disturb sign
I love the, 'Do not disturb' sign, and will hang it out whenever I can. For crying out loud, make your own bed and reuse the towels! Tell the cleaning staff that you don't need anything changed in the room unless you need more water or toilet paper.
The more you limit access to your room, the better. It's easier on housekeeping because they can move on to the next room.
Otherwise, travel with a few of these travel door alarms. They set off a 120dB siren that will ward off intruders.
Travel Safety Tip #13 – Secure your suitcase
I often take the train and there's nothing worse than worrying about where to store your suitcase. I've changed that. Go ahead. Steal my bag. There is nothing in there I care about. It contains the essentials, and if someone wants my soiled clothes and a bit of makeup, they can have it.
I find a place to stow my bag and if it's 20 seats away, I will stow it and forget about it. I will, however, put a suitcase travel lock on it, though. It won't deter anyone who physically takes my bag. It will deter those from tampering with it while it's not in my sight.
Hopefully these travel safety tips will come in handy on your next travel adventure. All of these top travel safety accessories are well worth the purchase. What do you do to keep safe while traveling? Drop me a line with your suggestions. I enjoy getting your feedback and would love to continue to add to this list.
Pin this for later!
=========================================
Affiliate Notice: We are a participant in the Amazon Services LLC Associates Program, an affiliate advertising program designed to provide a means for us to earn fees by linking to Amazon.com and affiliated sites. Amazon and the Amazon logo are trademarks of Amazon.com, Inc. or its affiliates.